Sabai-arom Urban Happiness Untie The Knot Healing Oils, 3x3ml
"UNTIE THE KNOT" PETIT TRIO ON THE GO - This "Untie The Knot" aroma bunch is designed and teamed up to help you release unnecessary stress, inspire you to smile away with a blooming heart and send you off to bed to enjoy your bedtime without having to "count sheep".
Mini size 3 popular aroma spot roller set. It is a pleasant set that you can choose the smell you like depending on your mood, collecting the scent of a relaxing system.
No.1 SLEEP
No.2 DE-TENSE
No.3 SMILE
Spot Roller No.1 Sleep - Sleep odor sleep easier. For difficulty sleeping or who lack sufficient rest. You know what you look exactly like when you haven't had enough rest or skipped your beauty sleep? Your eyes are droopy and filled with dark circles, your skin is inevitably dull, and finally, you become a tired panda. It may sound cute but physically not. See how important your sleep is and the way it badly affects overall well - being.
Fragrance ingredients: lavender, lime, guava Champa ylang.
Spot Roller No.2 De-Tense - Smell De-tense relieve tension. Facing an uninvited stress? Buddhism says the universal truth about life that everything is impermanent; all including survival depressions shall pass us by at times, and there's no reason to hold to the unsatisfied matters in this life. Happiness and Misery come and go. It's has been just like that and will always be.
Fragrance ingredients: rosemary, mint, lemongrass, eucalyptus forest.
Spot Roller No.3 SMILE - Smile smell keeps you smiling all day. Faced with issues.
Do you find it hard just to smile away?
Well, then you may haven't heard the unique story about the Thais. Despite the unchangeable life miseries, they always grin with delights for they know life is like that; it doesn't give like it take and it has a strange way to tease human beings. Thus, it is just so ordinary to see the Thais smile in every corner. Why gloomy when you know a blooming heart always attracts good things into life!?
Fragrance ingredients: mint, rosemary, lavender, thyme.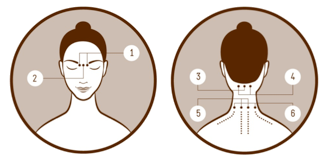 ★ Front Massage


paint your favorite fragrance roller, while turning around the slightly above the brow. Push the 1st place in the figure slightly for about 10 seconds with index finger slightly, and press 2 for 10 seconds in the same way. Do two or three sets of this message and repeat it if necessary. * It is also recommended that you push it for about 10 seconds strongly after it is crisp in a temple.
★

Use your favorite roller for a back massage, paint while turning around the base of the back head and the base of the neck. Push the 3rd position in the figure slightly for 10 seconds with your thumb slightly, and press 4 for 10 seconds in the same way. Use both your thumbs to slightly increase the 5th place for 10 seconds and then press 6 for 10 seconds in the same way. Do two or three sets of this message and repeat it if necessary.
5 other products in the same category:
Customers who bought this product also bought: