Sabai-arom Urban Happiness Chill Out, 3x3ml
Smile, calmness, and energy - this is all you need every day to achieve success. A trio of aromatherapy oils will help you stay calm and cheerful every day.
CONTAINS:
No. 3 - SMILE 3ml
No. 4 - PEACE 3ml
No. 6 - ENERGY 3ml
HOW TO USE: Use the roller ball to dab oil onto your temples, back of the neck, and wrists.Or simply sniff the bottle 2-3 times per day as needed.
Spot Roller No.3 SMILE - Smile smell keeps you smiling all day. Faced with issues.
Do you find it hard just to smile away?
Well, then you may haven't heard the unique story about the Thais. Despite the unchangeable life miseries, they always grin with delights for they know life is like that; it doesn't give like it take and it has a strange way to tease human beings. Thus, it is just so ordinary to see the Thais smile in every corner. Why gloomy when you know a blooming heart always attracts good things into life!?
Fragrance ingredients : mint, rosemary, lavender, thyme.
Spot Roller No.4 Peace - Peace scent gives a sense of peace and freedom. Seeking a peace of mind? At a moment everyone is running a war of nerves, and you find yourself in the middle of an emotional battlefield that needs time to cool down. You need to understand that it's simply our normal instinct that we create a quarrel out of something. Just never take part to spark fire for things have already gone wild enough.
Fragrance ingredients : lemongrass, kaffir, Champa, eucalyptus.
Spot Roller No.6 Energy - Energy odors and relaxes. The energy to come back again. Feeling devitalized and drained out? Are you losing a get - up - and - go will? It happens for times that you feel drained and devitalized, and you can't gather up power to drive your own body to complete the incomplete must - do. Don't ever give up your wishes if you know they are worth fighting for. Stand tall and move forward to reach for them!
Fragrance ingredients : mint, orange, lemon eucalyptus.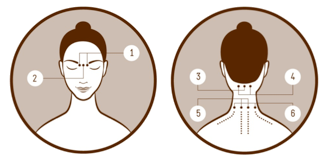 ★ Front Massage
paint your favorite fragrance roller, while turning around the slightly above the brow. Push the 1st place in the figure slightly for about 10 seconds with index finger slightly, and press 2 for 10 seconds in the same way. Do two or three sets of this message and repeat it if necessary. * It is also recommended that you push it for about 10 seconds strongly after it is crisp in the temple.
★

Use your favorite roller for a back massage, paint while turning around the base of the back head and the base of the neck. Push the 3rd position in the figure slightly for 10 seconds with your thumb slightly, and press 4 for 10 seconds in the same way. Use both your thumbs to slightly increase the 5th place for 10 seconds and then press 6 for 10 seconds in the same way. Do two or three sets of this message and repeat it if necessary.
100% Plant Active Ingredients, 100% Essential Oils
5 other products in the same category: