WNC 100% Pure Moringa Oil, 30 ml
WNC Moringa Oil – No added chemical, No added fragrance.
100% Natural, 100% Natural and Pure Moringa oil.
Moringa Oil has a zero comedogenic rating, the oil absorbs easily into the skin, without clogging pores or leaving a greasy feeling. Thus, making it suitable for all skin types, dry, combination or oily.
Moringa oil comes from the seeds of Moringa fruit, commonly known as Drumsticks. The Moringa tree has a long and thick short branch like pods that contain the Moringa seeds within. The oil is extracted by the pressing of these seeds. We use the Cold Pressed method to extract the oil from the seeds of the Moringa Fruit.
WNC used the traditional cold pressed technology to extract the oil from Moringa Seeds and focuses to retain all the natural nutrition of the oil. WNC Moringa Oil is rich in Vitamin A and Vitamin E which has the properties of Anti-Ageing, Skin Repair and strengthen the skin with a natural glow. Moringa oil has got a special name, it is Ben oil. It is called so because it has high amounts of behenic acid.
What is Behenic Acid and what it does to our skin - Behenic acid is important to help provide a protective barrier against the environment in order to maintain good skin quality. In skincare, behenic acid has lubricant, emollient, and soothing properties, which help to restore the skin's natural oils and improve overall levels of hydration.
Vitamin A - Builds the natural collagen in the skin. Moringa oil contains an abundance of Vitamin A, which helps our body naturally produce collagen. Collagen is essential for the growth and repair of your skin cells and to maintains both elasticity and firmness in the skin.
Vitamin E - (Anti - Ageing) (Filled with
antioxidant) enhances the immune system and protects the skin from damage. Vitamin E also helps reduce wrinkles and make your skin look and feel smoother.
How does vitamin E works - Vitamin E in skin care products has multiple benefits. It helps protect the skin and rejuvenate dull and dry skin. It is a potent antioxidant that is thought to fight off free radicals that cause signs of aging.
What is free radicals - Free radicals are unstable molecules that can damage the cells in your body and cause signs of aging. Free radicals can be caused by cigarette smoke, pollutants, a poor diet, and especially from the sun. This damages collagen and cause skin dryness and fine lines. Moringa Oil contains a healthy dose of naturally occurring antioxidants.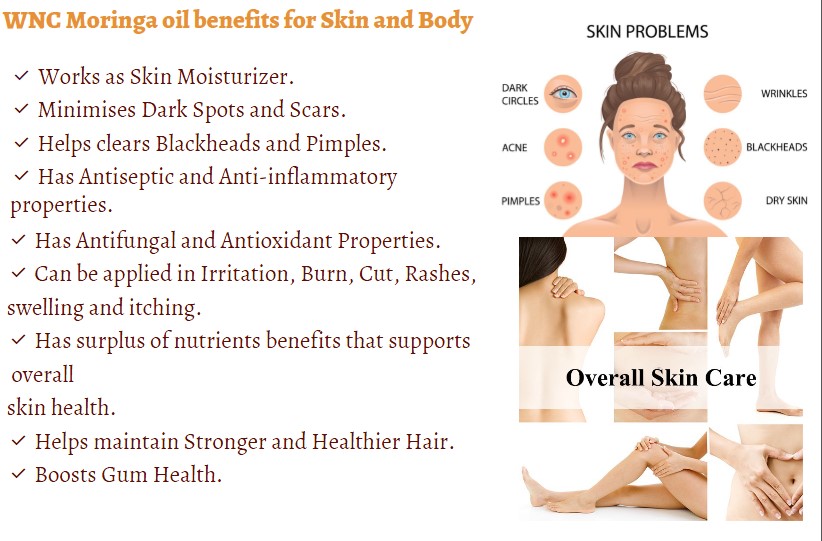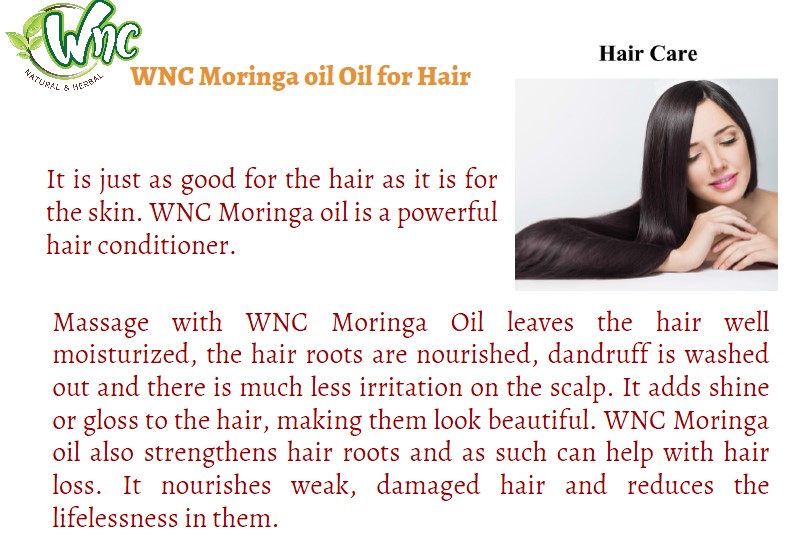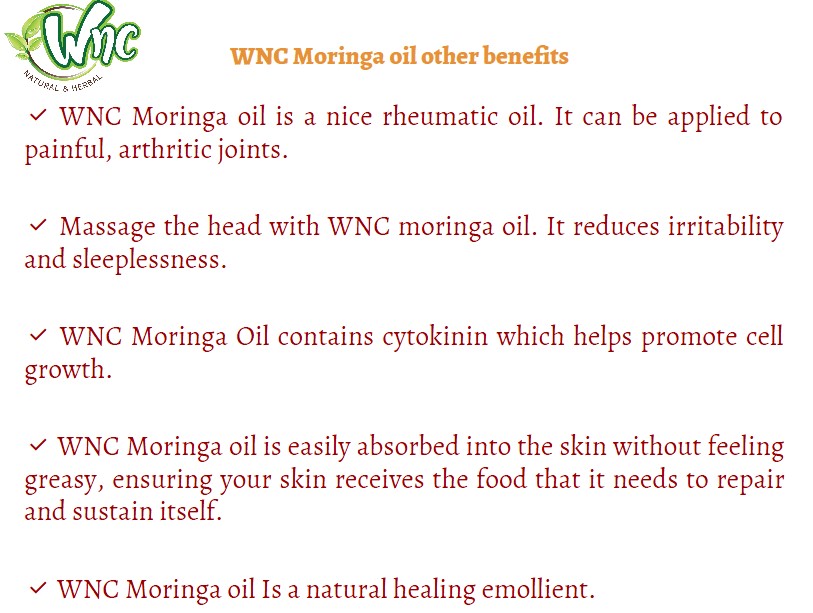 27 other products in the same category: