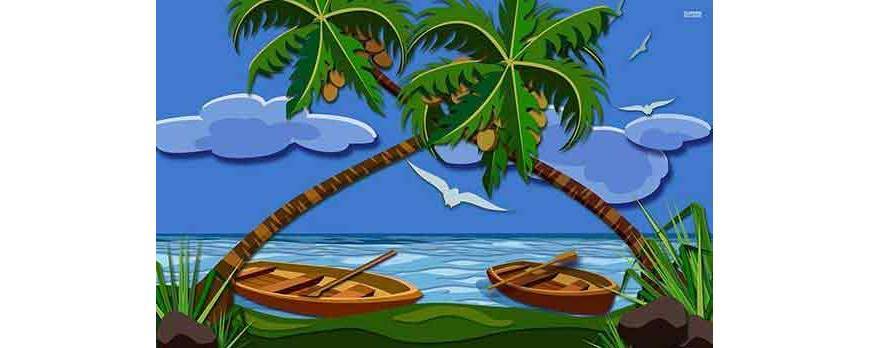 Coconut tree. The queen of the tropics
The coconut palm grows in warm climates throughout the world, but it is in Thailand, it has become an integral part of the history and culture. Absolutely all of the plant is used for the production of a huge number of different products of a huge number of different products that we face every day, while in Thailand.
Food: coconut oil, coconut milk, coconut flakes. They are used in the preparation of an unimaginable number of Thai dishes, from the famous hot soup Tom Yam to traditional Thai sweets. The shell is used for making various utensils, musical instruments, jewelry. The wood used to make furniture, fiber (coir) goes to mats, fishing nets, ropes, extremely strong and resistant to sea water.

Coconut oil obtained from pulp of mature nut by evaporation or by cold pressing more preferably.
Due to the large amount of lauric acid, which is also found in breast milk, and other useful components, coconut oil is beneficial for all the systems of the human body: normalizes the level of cholesterol in the blood, strengthens the immune system, kills bacteria and viruses, struggling with cancer, aging problems, reproductive system. It is an aphrodisiac.

Many women in Southeast Asia use coconut oil as the only caretaker for hair and body and achieve great results.
The constant use of coconut oil makes hair thick and shiny, strengthening, nourishing and protecting them from external factors. Excellent remedy for dandruff and hair loss. How to use: Apply coconut oil all the hair from the roots for 1-2 hours before hair wash.

The impact of coconut oil on the skin characterized by hydrate, nourish, struggle with injuries and wrinkles. Coconut oil is great for cosmetic use, because it is perfectly absorbed and does not clog pores. A great tool for massage, including the erotic. It does not cause allergies, no contraindications, it is recommended for children and infants.
Coconut oil helps in case of skin inflammation or burns, including sunburns. When sunbathing promotes uniform tropical tan and prevents dehydration of the skin. Is an excellent tool for removing make-up, relieves irritation after shaving and hair removal.

At temperatures below 25 Celsius coconut oil thickens, but when applied to the skin melts immediately. You can gently heat the coconut oil in a water bath without harm to its beneficial properties. Due to the bactericidal properties the shelf life of coconut oil is almost unlimited.

Our product range has one of the best Thai coconut oil brands - [Tropicana] Cold press Coconut Oil 100%. This extra quality oil can be used for cosmetic purposes and in food.
Leave a Comment
Leave a Reply